Performance Exhaust Systems
Whatever you drive, Vortex design and manufacture a range of unique exhaust technologies that increase engine power, reduce emissions and improve fuel economy.
Don't hesitate to contact one of the team today…
Leading the way in exhaust technology
Vortex Exhaust Technology delivers enhanced engine efficiency and performance, resulting in significant power gains, improved MPG and dramatically reduced emissions.
Vortex stainless steel exhaust systems are suitable for any vehicle with an internal combustion engine working on petrol (gasoline), diesel, bio-fuels and gas-propulsion (CNG, LPG).
Suitable for a wide range of applications and engine types, Vortex technology typically delivers…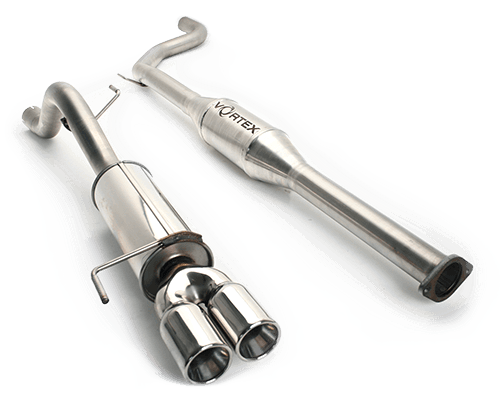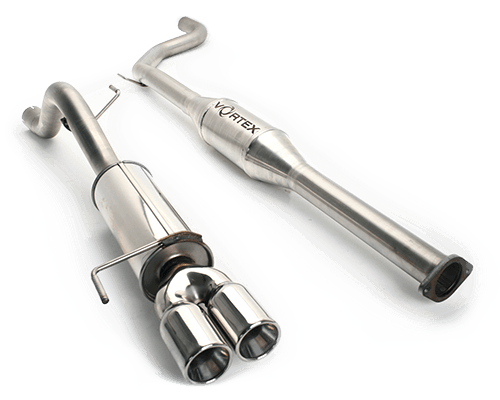 Vortex Exhaust Technology
Vortex™ patented high performance exhaust products are unique and have created a new generation of exhaust technologies that improve volumetric efficiency and eliminate back pressure.
Back pressure is a big problem for internal combustion engines. The engine needs to get rid of burnt gas in order to work; but the flow is blocked by catalytic converters, filters, silencers and baffles – all added by law to reduce certain emissions and noise.
Vortex Exhaust Technology is the only technology that eliminates back pressure, delivering better bhp, more torque, more MPG and significantly reduced emissions. Discover more about Vortex Exhaust Technology >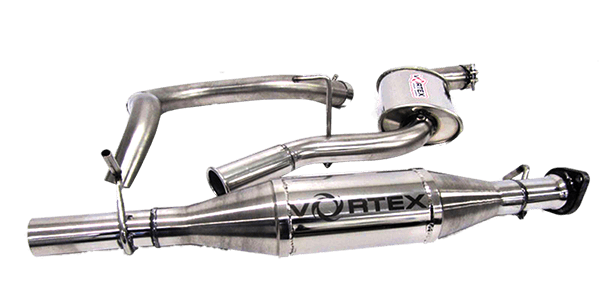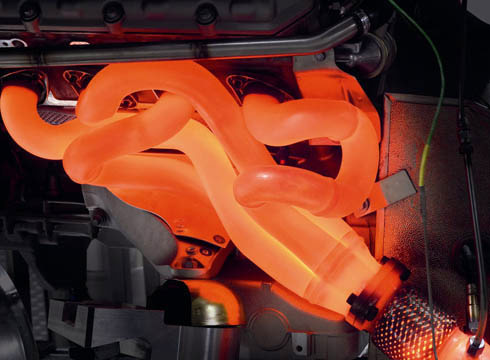 Reducing Emissions
Unlike many developing low-carbon technologies, Vortex Exhaust Technology is immediately available and will impact on emissions TODAY.
Increased legislation has forced vehicle manufacturers to reduce vehicle emissions. Consequently, exhaust systems have become more complex in their design and even more restrictive to gas flow, thereby reducing vehicle performance and power.
Vortex products are unique and have created a new generation of exhaust technologies that improve volumetric efficiency, resulting in significant emissions reductions and improvements to fuel consumption and performance.
Discover the Vortex Difference
Unique exhaust technology that improves engine efficiency, giving you more power, more torque and more fun
The Vortex™ raceflo™ resonator is our performance exhaust system for race car owners and racing enthusiasts who want to improve their car's engine performance characteristics.
With a Vortex™ raceflo™ exhaust you'll get at least a 10% increase in brake horse power (BHP), and more than 10% increase in torque (NM). This is in addition to all performance gains resulting from any other improvements made to the engine.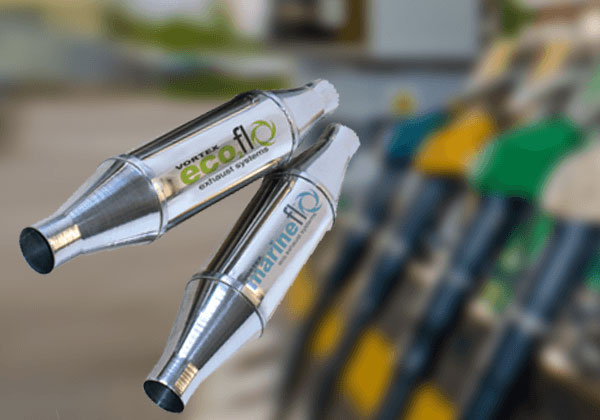 Vortex™ ecoflo™ is our performance exhaust for vehicle owners who want to improve their car's fuel economy and reduce its impact on the environment. A Vortex™ ecoflo™ exhaust can reduce a car's fuel consumption by up to 10% and drive down emissions by up to 33%.
For example, a typical family car fitted with a Vortex™ ecoflo™ exhaust consumes 10% less fuel. On an annual mileage of approximately 12,000 miles, that can equate to a saving of £300 a year. For high mileage drivers and 4×4 owners the savings can be even more! Typically in excess of £1000 a year!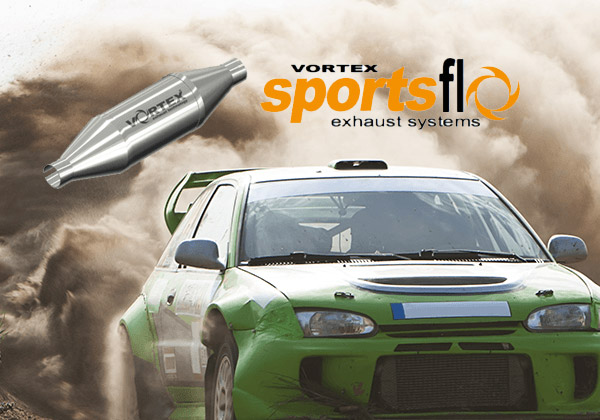 For car owners who want the power gains of a Vortex™ raceflo™ exhaust, combined with the economical benefits of the Vortex™ ecoflo™ system, we have developed sportsflo™. Vortex™ sportsflo™ is typically fitted to vehicles producing between 100 – 250 bhp. Sportsflo™ can increase a car's power and torque by 10% as well as reduce fuel consumption by at least 10% and emissions by up to 33%.
Vortex featured on Wheeler Dealers!
"Vortex is a fantastic exhaust system and ticks all the boxes; smoother acceleration, more power, more mpg, lower emissions and sounds awesome!"
Edd China, Wheeler Dealers
LANDROVER SPECIALIST PRODUCTS


Check out our Direct Fit Vortex systems for Landrover.
Designed to fit all models of Landrover Defender, Discovery, Freelander, Ranger-Rover and Evoque!
Great product that REALLY WORKS better than I imagined. Immediate noticeable difference in engine response.. revs easier.. SOUNDS Amazing.. and the power band really kicks in once the rpms are up a little!! I'm still in disbelief!!! Also, some of the best follow up after the sale I have ever experienced!! Made more difference than any other single upgrade I have made!!!

Bobby Stephens


12/13/2017

Drove down from Dudley West Midlands to get exhaust done. Very impressed with service provided and extremely impressed with the vortex exhaust that was fitted to our BMW. Improved on fuel consumption, performance and the speed Very highly recommended. Will definitely be visiting again with another vehicle.

Justine Majid


11/01/2017

I was recommended to these guys by a close friend who said they were a good professional outfit who really know there stuff. A few emails with Lee and we decided on a race flow cat back system for my Holden Monaro Vxr. I had to cancel my first date but that was no problem. So today I arrived at 8am and was greeted with a cup of coffee. Then followed a discussion about the system and we chose the exhaust tips. I hung around for the day as I live miles away...but the day past quickly and I was kept up to date with progress throughout. Then at about 3.30 an unmistakable rumble came from the workshop. On inspection the guys had done a cracking job with loads of attention to detail....it's clear these guys take pride in their work. A quick test drive and I was more than happy to head home. A good price and a good product.....thoroughly recommend these guys to anybody. Alan

Al Milford


10/13/2017

Been there, done it, loving it. Many thanks to Vortex team and I'm looking forward for the next project!!!

Bogdan Mihail Rosu


9/28/2017

10 year old Fiat Coachbuilt Motorhome exhaust was beyond repair. I had heard about the Vortex system and its benefits for turbocharged Diesels. Got prices for New Stainless Vortex and bit the bullet. I do not normally believe the hype but this has made a massive difference to the power output I can happily sit on the motorways at 65 without a problem there is always a bit left for overtaking trucks ETC. Definitely a benefit to my Truck. Many Thanks Tony Bowers

Tony Bowers


9/25/2017

Sounds great and fitting superb and great service

Lewis Kent


8/30/2017

Gone above and over what I expected, 100% trust in these guys!

Mathew Woods


8/03/2017

Very good service lovely people couldn't of asked for a better company , so happy with the outcome of my exhaust on the caddy van!�

Charlie Wilde


7/06/2017

I have used Vortex Exhausts a couple of times now, both times I have spoken to Neil who was very helpful, efficient and informative. I had replacement CATS for my cars and they fitted perfect, also excellent prices - one was 10% cheaper than the wholesale rate my garage could buy and the second was about a third of the price Kwik Fit quoted! I have spoken to lots of people with specialist cars and suggested Vortex. So overall good quality, excellent prices and service. Will use again!

Ben Jacomb


7/05/2017

Staff at vortex were very friendly and although there were a few issues when it came to my exhaust the people at vortex got it sorted in the end. Exhaust is perfect. Love the sound and does whats its meant to do can really feel the difference to my car.

Ross Thompson


6/21/2017

I would like to say a big thank you to everyone at Vortex, I had a great day and was made to feel very welcome. I can't wait to get my new exhaust system fitted.

Ian Johnson


11/14/2015

Fantastic service from start to end, totally on the same mind set when it comes to what you're looking for. One of the cleanest garages I've ever been in. And my exhaust.....well it puts a smile on my face every day, the vortex exhaust does exactly what it say on the tin....first class!

Dave-yid Compton


8/21/2014